Infrastructure of J. J. Autolink Pvt. Ltd.
At present J. J. Autolink Pvt. Ltd. have 3 production lines, well equipped with foundry and modern machineries and equipments. Our advanced production technology utilizing latest machineries, equipments and manufacturing process produces and maintains international quality standards of CYLINDER LINERS/SLEEVES set by Engine & Vehicle manufacturers and International Quality control institutes.
Foundry Division
Foundry division is equipped with 2 Induction furnaces having melting capacity of 2MT per day. In addition to furnaces, casting testing equipments and metal testing laboratory is equipped in foundry where raw material tested before casting for its chemical properties, Hardness, and other analysis.
Casting of Cylinder liners and Cylinder Sleeves is done in grey cast iron of G-4000 Grade. In such a way so as to achieve prelatic structure free from ferrite and graphite (max up to 2-3%). They are casted by centrifugal casting process so as to achieve compact structure and high strength as well as desired wear resistance, hardness and tensile strength.
Each and every batch of casting is tested at the time of pouring as well as afterward completely in the in-house laboratory to maintain chemical composition, mechanical properties and metallographic of the end products so as to meet the exact requirement of metallurgical norms.
These casting of cylinder liners are further machined in our well equipped machinery plant having latest special purpose machines, CNC turning center and hydraulically operated honing machines to achieve plateau honing configuration.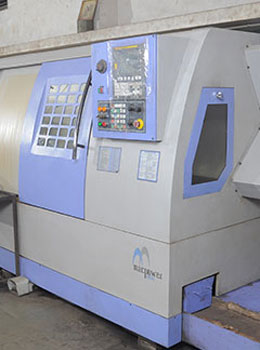 Machine Division
Machining of Cylinder liners is very important as it needs to be very precise in all the fitment sizes. Our machine workshop is equipped with high tech latest machinery to obtain accuracy in microns.
List of machinery
Lath machines
Automatic vertical hydraulic boring machines
Special Purpose CNC Vertical turning units
CNC Machines
Plateau Honing Machines
Quality control
Utmost care is taken for quality control process, at each step, starting from forgings to finish, which go a long way in ensuring high performance precut.
Apart from fully equipped machine shop, we have a modern laboratory and heat treatment plant equipped with furnaces with the precise temperature and atmospheric controls.
which are very critical to produce within short tolerance conducted at every stage of the activity, on dimensional, chemical and metallurgical parameters, thus resulting in word class products with the highest performance standard.
Quality check instruments:
Spectrometer
Material Analysis lab installed with Spectrometer
Compound Optical Microscope
Micrometer
Surface Roughness Tester
Hardness tester
Ring Micrometer
Height Micrometer
Other Measuring Instruments
Our Brand