Cylinder Liners and Sleeves
J. J. Autolink Pvt. Ltd offers Cylinder Liner (Wet Liners) & Sleeve (Dry Liners) for all type of Engine, Tractors, Cars, Trucks, Compressor,& Generators. We also manufacture and export client-centric auto cylinder sleeves and liners as per customers required specifications, drawings or samples.
We provide diverse designs of fully finished & pre-honed cylinder liner and sleeves in different sizes, which can be fitted directly in engines with no further machining required before or after its fitment.
Cylinder Liner (Wet Liners)
The cylinder liner of an internal combustion engine includes a wet-type upper portion and a dry-type lower portion. The upper (wet) portion of the cylinder liner is formed to include alternate thinner and thicker portions, the thicker portions strengthening the liner in the wet area and enabling the overall thickness of this portion of the liner to be smaller than would otherwise be possible. Further, the shapes involved by this construction provide a plurality of parallel annular flow passages by which the cooling fluid is directed in parallel paths around the upper portion of each of the cylinders from one side of each cylinder to the other side thereof.
Modern capability and human resources to deliver the best forging and machine components.
Assuring you of you r of our best service and cooperation at all times. Ganga Forging Limited Is an ISO 9001:2008.
The company is a full fledged forging unit catering to the needs of not only OEM customer's but also to the part manufacturing units by offering them word class products at very cost effective prices.
The company also exports forged components in raw, semi finished or finished stage depending upon requirements of its buyers.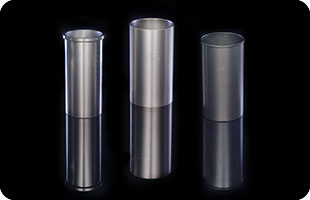 Cylinder Sleeve (Dry Liners)
A Cylinder Sleeve or dry cylinder liners has a flange at the outer circumference of the upper part of a liners barrel, and also has a grind relief groove formed below the flange at the outer circumferential surface of the liner barrel. The upper surface and the lower surface of the flange are coated with a coating film comprising a heat resistant resin containing a solid lubricant. The coating film may also be applied to only the lower surface of the liner flange.
Cylinder sleeves share almost same characteristics like cylinder liners, i.e. sleeves have high wear resistance properties and consume less lubricant during the operation.
Dimension Range:
Inner Diameter: Min 65 mm – Maxi 160 mm
Outer Diameter Min 72 mm - Maxi 180 mm
Length Min 150 mm – Maxi 320 mm